Bonkey Kong
Download Bonkey Kong!



Bonkey Kong awoke one morning with a very peculiar feeling. It stayed with him all day, eventually prompting him to seek the advice of his Dad. "Son, you have reached the age where every young Kong must fulfil his destiny. Follow your instinct to take your rightful place in the world. Good luck." And so, Bonkey Kong then knew exactly what he must do.

You are Bonkey Kong! Fulfil your destiny by taking your place on top of an unfinished building with the love of your life! (Whom you have plucked randomly from the street below...)

Use a joystick in port 2 to move left and right. Press the fire button to throw barrels at the workers who will climb the building and try to stop you.

Please note: Due to a series of accidents in the 80's, the Kong Workers Union have imposed new restrictions: Only one barrel can be thrown at a time.


Credits
Programming and graphics by Graham Axten

Music and sound effects by Vanja Utne

Beta testers:

Craig Derbyshire
Roy Fielding
Andreas Gustafsson
Vanja Utne








C64ColQuiz
This is a tricky little game! In addition to fast reaction skills it requires knowledge about what hex codes correspond with what colours on the Commodore 64 - or the ability to memorise them, as the colours and corresponding codes are displayed on the title screen. Fortunately, the C64 only has 16 colours, so it's not an impossible task!
Credits
Programming by Andreas Gustafsson

Music and sound effects by Vanja Utne

Beta tester:

Fredrik Gustafsson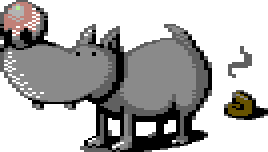 DOG
Download DOG!



You are DOG!

Your aim is to run around in shouty man's garden and poo all over his lawn without getting caught! You can only poo on the grass, and only once per grass square.

Connect your joystick to port 2. Moving left/right on the title screen changes the difficulty setting. Press fire to play - and be ready to start running! When caught, press fire to play again.

To start pooing, you have to stand still with the fire button pressed until the poo meter is full. If you move before it is full, the poo is interrupted and the poo meter resets.

A successful poo gives 5 points and will start the super combo bonus timer. Poo a second or third time while it is still active for super pooper bonus points!


Credits
Programming, sound and graphics by Vanja Utne

Beta testers:

Andreas Gustafsson
Roy Fielding
Jimmy Persson
David Almer






I Am the Flashing C64 Cursor
I am the flashing c64 cursor.

For decades I have helped ninjas and moles...space pilots and spies...badgers and bears...launch their action adventures, but did they ever think to invite me along? No!

But that is all going to change! No more will I sit and wait while a fancy animated sprite saves the world. No longer will I be restricted to basic programming and the odd text adventure!

I am the flashing c64 cursor, ACTION HERO!

Connect your joystick to port 2, and follow the ingame instructions as the game evolves.
Don't fall in the gaps, and try to collect the numbers 4, 0, 9, 6 in the right order as quickly as possible.
Credits
Programming by
Craig Derbyshire

Music by
Vanja Utne