TEMPORARILY SOLD OUT! STILL TAKING PREORDERS!
To buy a copy:
Send a mail to shop@pondsoft.uk with the subject line BEARTAPE
No payment info is sent out until your copy is ready to ship.
If it seems like you didn't get a reply, please remember to check your spam folder to see if our reply to your mail has ended up there.
How much does it cost?
£10

including worldwide shipping

.
£1 per copy of the game will go to a bear rescue charity. We're not making any money on this tape version.
When will you start shipping?
The tape version is available now!
The further down you are on the list, the longer it'll take before your copy is shipped
Bear in mind that this is our first tape release and our second release ever so we are still new at this :)
What you get when buying The Bear Essentials tape version:
Full version of the game with built in map
Loading pictures and music, using Freeload by Paul Hughes
Double size tape jewel case (fullprice style) with full colour glossy inlay (see below)
First bunch of copies signed by Graham on the inside of the cover
Lovely green tape (see below)
12 page full colour glossy A7 manual
Stickers!
Bonus game (Super Bonkey Kong) on side B of the tape
For each copy sold we donate £1 to Free The Bears, a charity that protects, preserves and enriches the lives of bears throughout the world!
Tape version cover inlay: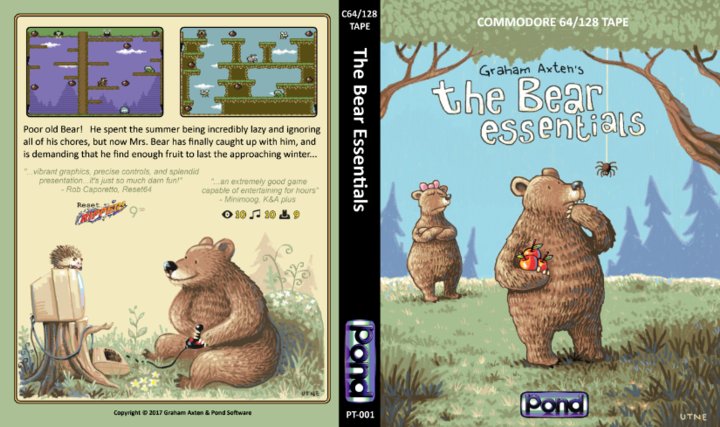 Tape side A: